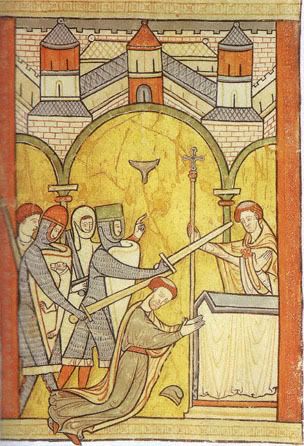 Let us all rejoice in the Lord, celebrating a festal day in honour of blessed Thomas the Martyr: at whose martyrdom the Angels rejoice, and praise the Son of God. Ps. Rejoice in the Lord, O ye just: raise becometh the upright.
~from today's Introit
O God, for the sake of whose Church the glorious Bishop Thomas fell by the sword of ungodly men: grant, we beseech Thee, that all who implore his aid, may obtain the good fruit of their petition.
~from today's Collect
Ecce sacerdos magnus, qui in diebus suis placuit Deo. Non est inventus similis illi, qui conservaret legem Excelsi. Alleluia, alleluia. Ego sum pastor bonus et cognosco oves meas, et cognoscunt me meæ
...Behold a great priest, who in his days pleased God. There was not found the like to him, who kept the Law of the Most High. Alleluia, alleluia. I am the good Shepherd: and I know my hseep, adn MIne know Me.
~from today's Gradual
Happy Fifth Day of the Octave of Christmas!