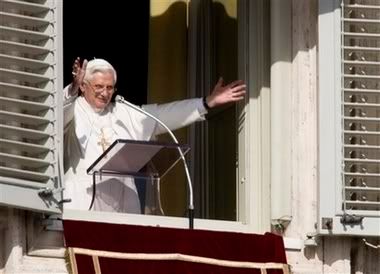 (AP Photo/Andrew Medichini)
Pope Benedict XVI delivers his blessing during the Angelus noon prayer he celebrated from the window of his studio overlooking St. Peter's Square at the Vatican, Sunday, Oct. 28, 2007. The Vatican staged its largest mass beatification ceremony ever Sunday, putting 498 victims of religious persecution before and during Spain's civil war on the path to possible sainthood. The ceremony was celebrated by Portuguese Cardinal Jose Saraiva Martins, prefect of the Vatican's Congregation for the Causes of Saints.
~translated by
Teresa Benedetta of Papa Ratzinger Forum
Dear brothers and sisters!
This morning, here in St. Peter's Square, 498 martyrs killed in Spain during the 1930s were proclaimed Blessed. I thank Cardinal Jose Saraiva Martins, Prefect of the Congregation for the Cause of Saints, who presided at the celebration and I address my cordial greeting to the pilgrims gathered here for this joyful event.
The enrolment at one time of such a great number of martyrs in the Book of the Blessed shows that the supreme testimony of blood is not an exception reserved only for some individuals, but a realistic eventuality for the entire Christian people.
These martyrs are men and women - very diverse in age, vocation and social condition - who paid with their lives for their loyalty to Christ and to his Church. We can well say of them the statements of St. Paul which echo in this Sunday's liturgy: "I am already being poured out like a libation," he writes to Timothy, "and the time of my departure is at hand. I have competed well; I have finished the race; I have kept the faith" (2 Tim 4,6-7),
Paul, detained in Rome, sees death approaching, and traces a balance full of acknowledgment and hope. He is at peace with God and faces death serenely, with the consciousness of having spent all his life sparing nothing in the service of the Gospel.
This month of October, dedicated particularly to missionary commitment, thus closes with the luminous witness of the Spanish martyrs, who join the martyrs Albertina Berkenbrock, Emmanuel Gómez Gonzáles and Adilio Daronche, as well as Franz Jägerstätter - all proclaimed Blessed in recent days in Brazil and Austria.
Their example bears witness that Baptism commits Christians to participate with courage in spreading the Kingdom of God - if necessary, with the sacrifice of life itself.
Of course, not everyone is called to a bloody martyrdom. There is also a bloodless martyrdom, which is not less significant, such as that of Celina Chludzińska Borzźcka - wife, mother, widow and religious - who was beatified here in Rome yesterday. She typifies the silent and heroic testimony of so many Christians who live the Gospel without compromises, fulfilling their duty and dedicating themselves generously to the service of the poor.
This martyrdom of ordinary life is testimony that is even more important in the secularized society of our time. It is the pacific battle of love that every Christian, like Paul, should wage tirelessly - the path of spreading the Gospel to which we are committed till we die.
In this daily testimony, may the Virgin Mary, Queen of Martyrs and Star of Evangelization, help and assist us.